Home renovations are a huge commitment, and selecting between two of the most popular home appliance brands – Hisense and Samsung – can be daunting. After all, television viewing is one of the main sources of entertainment in any house. That's why it's essential to guarantee that you get an optimum TV viewing experience from your purchase decisions.
When selecting a new TV, Hisense and Samsung offer distinctive features you should consider before deciding on the right one. Both brands are highly reliable. However, they can differ in certain aspects, making one more suitable based on your requirements.
About Hisense TV
Hisense TVs are known for their cutting-edge technology, superior picture quality, and exceptional value. With an extensive range of models available, you will surely find the perfect TV for your home. Hisense TVs offer 4K Ultra HD, HDR10+, local dimming, Dual Core processors, and Quantum Dot technology.
With sizes ranging from 43″ to 100″, Hisense TVs are ideal for any size room. You will get your favorite shows with Smart TV capabilities and a wide range of streaming apps like Netflix, Hulu, YouTube, and Amazon Prime Video.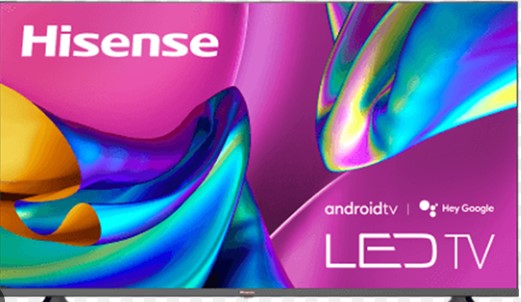 With the Hisense TV remote, you can easily access these apps with just one click. Hisense also offers extended warranty protection plans to give you peace of mind.
Whether you're looking for a smaller TV to fit in your bedroom or a larger, state-of-the-art model for your living room, Hisense TVs have the features you need at an unbeatable price. Experience Hisense's signature style and technology, and enjoy a superior viewing experience.
With Hisense, you can trust that your TV will always deliver an outstanding, reliable performance.
About Samsung TV
Samsung is a leading name in the television industry, offering cutting-edge Smart TV technology for a truly immersive viewing experience. Samsung's range of Smart TVs includes features such as voice-activated remotes, built-in streaming services, and personalized recommendations.
With the Samsung Smart Hub, users can access their favorite streaming services like Netflix and YouTube, plus thousands of apps to enjoy. Samsung TVs offer incredible picture quality with 4K UHD resolution and HDR compatibility for a great viewing experience.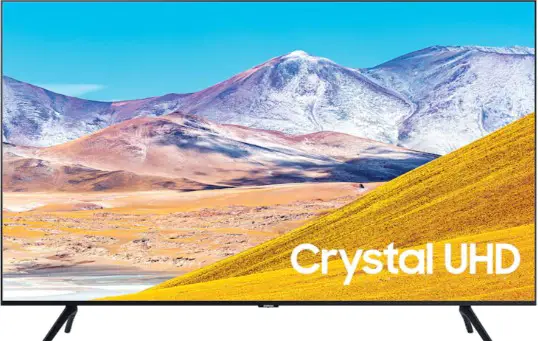 Samsung offers an impressive range of design styles, from curved TVs for a more immersive viewing to Frame TVs that blend into any home décor. With a range of size options, there is a Samsung TV to suit every space and budget.
Whether you're looking for a basic model or a top-of-the-range Smart TV, Samsung offers something. From the sleek and stylish to the incredibly powerful, Samsung TVs are the perfect way to get the most out of your viewing experience. So let Samsung take you further into your entertainment with their range of smart TVs.
Hisense vs Samsung Comparison
When purchasing a Tv, you may wonder whether to go with a Hisense or Samsung product. Both brands have a range of products that will meet your needs, but when it comes down to it, which is the right choice?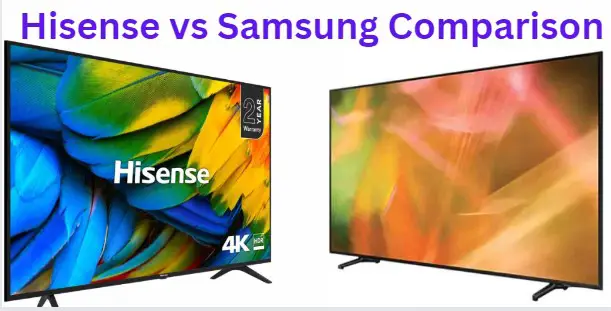 Below is a comparison of two popular models from each brand to better understand the differences between Hisense and Samsung TVs.
1. Panel Technology
The panel technology of a TV refers to the type of display used to create the image on the screen. Hisense and Samsung use various panel technologies in their TVs, including ULED (Ultra Light-Emitting Diode), LCD (Liquid Crystal Display), OLED (Organic Light-Emitting Diode), and QLED (Quantum Dot Light-Emitting Diode).
Hisense uses ULED, OLED, and QLED technologies to produce vibrant colors, sharp contrast, and deep blacks. Samsung uses only QLED TVs for their range of TVs, which means they can offer an incredibly accurate and lifelike viewing experience.
When choosing between the two brands, you have a variety of panel technologies when purchasing a Hisense TV. At the same time, Samsung offers a superior viewing experience with its range of QLED TVs.
2. Image Processor
A TV's image processor is a chip responsible for processing and rendering the image on the screen. Hisense uses its proprietary image processors in some of its TVs, while Samsung uses its processors and those from other companies like AMD and Mstar.
Image processors play a crucial role in the overall performance of a TV, as they handle tasks like upscaling lower-resolution content, improving the clarity and detail of the image, and reducing motion blur.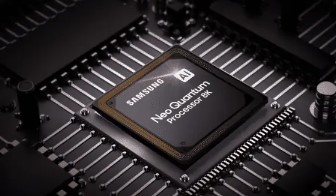 3. Motion Technology
Motion technology refers to a TV's features designed to improve the clarity and smoothness of fast-moving images. Both Hisense and Samsung offer TVs with various motion technologies, such as 120Hz refresh rates and frame interpolation, which can help reduce motion blur and judder.
Higher refresh rates allow the TV to display more frames per second, making fast-moving action appear smoother. In contrast, frame interpolation algorithms can insert extra frames into the video stream to reduce judder further.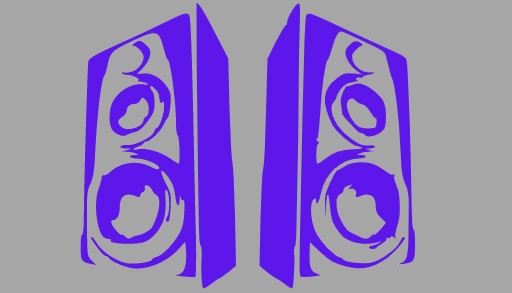 4. Picture Quality
Which kind of content do you wish to view? Hisense and Samsung provide incomparable TV displays, though there are a few noteworthy distinctions between the two. TVs from Hisense come highly recommended with advanced technologies such as ULED, OLED, and QLED for vivid colors and great black levels.
On the other hand, people often turn to Samsung products for the remarkable viewing accuracy of its QLED televisions.
Additionally, Samsung TVs offer advanced upscaling technologies to ensure the images look their best when viewed on a larger screen.
Hisense and Samsung TVs offer excellent viewing experiences with advanced picture technologies. It all comes down to what you prefer for your home entertainment setup. Below are the six main categories of picture quality to consider when comparing Hisense and Samsung TVs.
i. Contrast Ratio / Black Level
The contrast ratio of a TV refers to the range between the darkest and lightest parts of the image that the TV can produce. A higher contrast ratio means the TV can display a broader range of brightness levels, improving the image's overall detail and realism.
Samsung QLED TVs have a high contrast ratio because you can use local dimming technology to customize the brightness of individual screen sections, improving the image's depth and realism. Hisense TVs also achieve a good level of contrast, with ULED and OLED models offering excellent color and contrast.

ii. Local Dimming
Local dimming is a feature designed to improve a TV's contrast ratio by independently controlling the backlighting of different screen areas. Many Hisense and Samsung TVs offer local dimming, which can help produce deeper blacks and improve the overall contrast ratio of the image.
This allows for better handling of subtitles and dark scenes without losing out on details. The effectiveness of a particular local dimming system will depend on the specific TV model and how it's being used.
iii. Peak Brightness
The peak brightness of a TV refers to the maximum brightness that the TV can produce. A higher peak brightness can improve the visibility of the image in well-lit rooms and enhance the image's overall detail and clarity.
The use of HDR and SDR formats will also affect the peak brightness of a TV, as HDR formats can take advantage of an increased range of color and brightness levels. Hisense TVs offer up to 2000 nits on select models, while Samsung TVs offer up to 4000 nits depending on the model.

iv. Viewing Angle
The viewing angle of a TV refers to the range of angles from which the image on the screen can be viewed without significant degradation in quality. A wider viewing angle allows the image to be viewed from a greater range of positions without losing contrast or color accuracy.
Hisense offers mediocre viewing angles on most of its TVs due to the use of OLED and ULED panels, while Samsung offers vastly superior viewing angles thanks to QLED technology.
v. Refresh Rate
The refresh rate of a television is measured in Hertz (Hz) and denotes the frequency at which the image on the screen is updated. A higher refresh rate can improve the smoothness of motion on fast-moving content, such as sports and action movies. Many Hisense and Samsung TVs offer refresh rates of 120Hz or higher, which can greatly improve the viewing experience.
vi. Color Accuracy
The color accuracy of a TV refers to the accuracy with which it can accurately display different colors. Thanks to advanced Quantum Dot technology, Samsung TVs are renowned for their accurate color reproduction. Hisense TVs also offer good color accuracy, with many models offering over 100% coverage of the DCI-P3 color space.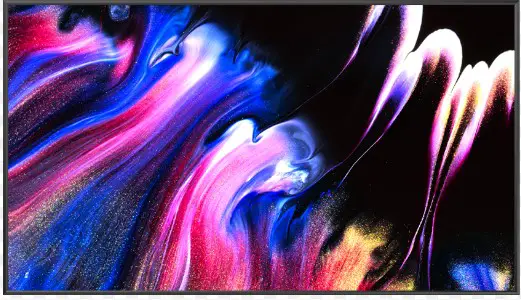 Regarding picture quality, Hisense and Samsung TVs both deliver excellent performance. It ultimately comes down to the individual buyer's preferences and budget, as some technologies, such as Quantum Dot, may be too expensive for some consumers.
However, with both manufacturers offering top-notch picture quality, finding a TV that will meet your needs is easily possible.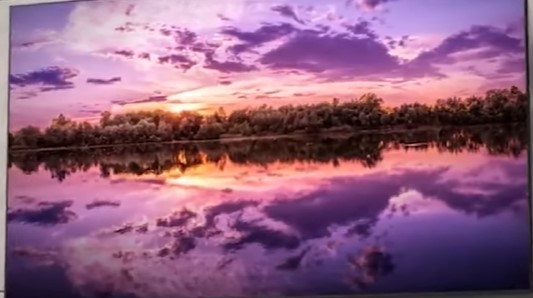 5. Reflections / Anti-glare
The reflection and glare reduction of a TV refers to the ability of the TV to minimize the amount of light reflected off the screen. This can be important in rooms with a lot of natural light, as reflections can make the image on the screen harder to see.
Hisense comes with a semi-glossy screen that helps reduce reflections, while Samsung TVs have a more advanced anti-glare coating that does an even better job of reducing reflection and glare. Samsung wins with reflection and glare reduction, but Hisense still offers a good solution for users who don't need extra protection.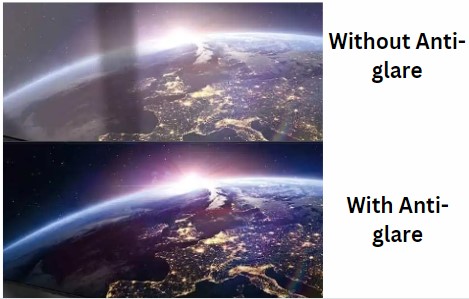 6. Sound Quality
The sound quality of a TV refers to the clarity and detail of the audio produced by the TV's speakers or audio system. The distortions and other imperfections that affect the audio from a cheap TV can be unpleasant and distracting.
Hisense and Samsung offer excellent sound quality for their TVs, offering high-end audio systems on select models. However, Samsung has a slight edge regarding sound quality, as its flagship televisions come with Dolby Atmos audio systems.
7. Smart TV Platform (Operating System)
Hisense uses the Android VIDAA U3.0 platform for its Smart TVs, while Samsung uses the Tizen operating system. Both OSs offer high capability of performance and user-friendliness. With the VIDAA U3.0 platform, Hisense Smart TVs provide a new, intuitive way to watch your favorite content.
It provides fast performance and an easy-to-use interface that lets you quickly find your favorite apps, movies, shows, and more. With the Tizen operating system, Samsung Smart TVs provide a personalized experience and easy access to content through an intuitive interface.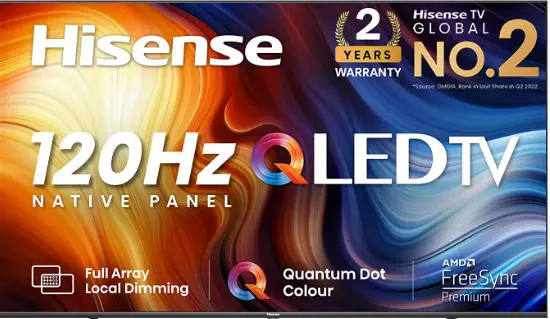 Samsung winks up with leading tech platforms like Apple and Google, while Hisense works with Amazon to provide access to Alexa on their TVs. Samsung also includes access to its exclusive services like Samsung Health and Apple TV.
8. Connectivity
This advanced feature for TVs has dramatically improved image and sound quality. Hisense and Samsung offer excellent connectivity options, including Wi-Fi, Bluetooth, HDMI, Ethernet, and USB ports. Hisense offers VESA mount compatibility and digital audio output, while Samsung offers HDMI ARC (Audio Return Channel) and wireless audio streaming.
Samsung offers more connectivity options, but both brands offer excellent performance for connecting to external devices.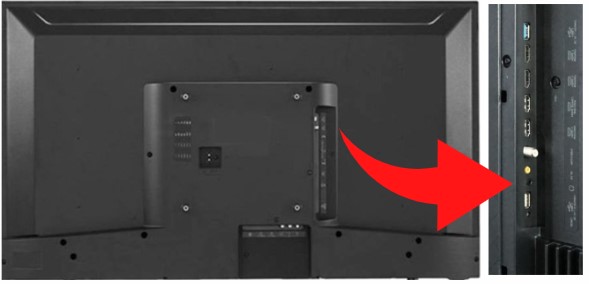 Hisense uses Google Assistance on their TVs, allowing you to connect with other voice assistants like Amazon Alexa. In comparison, Samsung uses its own assistant Bixby to control the TV and is compatible with other voice assistants like Google Home and Amazon Alexa. This means the two brands are evenly matched when it comes to connectivity.
| | | |
| --- | --- | --- |
| Input Ports | Hisense | Samsung |
| HDMI Ports | Four HDMI Ports | Four HDMI 2.0 Ports |
| Ports | Two USB 2.0 Ports | Two USB 2.0 Ports |
| Optical Audio Out (Digital) | One Port | One Port |
| Ethernet Port | Yes | Yes |
| Price | Depend on the model you are planning to buy | Depend on the model you are planning to buy |
| Voice Assistance | Google Assistant and Amazon Alexa | Bixby and Support Others |
9. Price
Price is the main factor that most buyers will consider when choosing between Hisense and Samsung. While both brands offer excellent performance in picture quality, sound quality, smart TV platform, and connectivity, Samsung TVs tend to be more expensive.
Hisense provides excellent value for the money and offers a wide range of budget-friendly TVs with great features. Samsung still provides superior performance, but the cost may be too high for some buyers.
Hisense vs Samsung: Which Brand Is Better?
Deciding between Hisense and Samsung TVs can be difficult, as both brands offer quality television sets. But you should not be worried about choosing one, as both Hisense and Samsung TVs have benefits.
When comparing the two brands, it's important to consider each TV's features, performance, and price. Hisense TVs are usually cheaper than Samsung TVs, but that doesn't mean they don't have comparable features. For example, Hisense TVs have 4K Ultra HD resolution, HDR support, and Smart TV capabilities.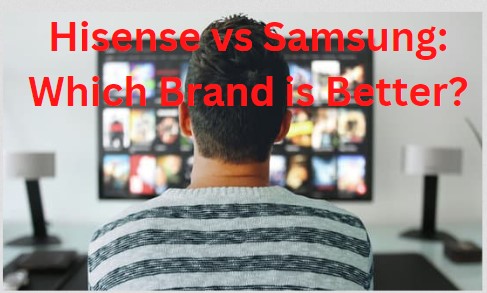 If you are on a high budget and looking for more advanced features, then Samsung TVs can be a better choice. Then if on a low budget, Hisense TVs can be a better choice. Though the features are not as advanced as Samsung's, they still offer great value for money.
Whichever brand you choose, you can be sure that your TV will have the latest technology and you can enjoy great picture quality.
Frequently Asked Questions
Is Hisense A High-End Brand?
Hisense is a Chinese consumer electronics company that offers a wide range of products, including TVs, refrigerators, air conditioners, and more. While Hisense offers some high-end products, the company is known for offering various products at various price points.
Is Samsung Better Than Hisense?
It depends on what features you want on a TV and how much you will spend. Samsung TVs are more expensive than Hisense TVs and offer advanced features, such as 4K Ultra HD resolution and HDR support.
Hisense TVs are usually cheaper and offer similar features, though they may not be as advanced. Ultimately, it depends on what you value most in a TV.
Are Samsung TVs Reliable?
Samsung TVs are generally considered to be reliable products. However, like any electronic device, they may experience issues or malfunctions from time to time. It would be best to read reviews and research before purchasing to ensure your TV is reliable.
Do Samsung TVs Last Long?
The lifespan of a Samsung TV will depend on various factors, including how it is used and the specific model. On average, TVs can last for around 8-10 years, but this can vary significantly. When purchasing a Samsung TV, it is important to consider the warranty included and ensure you are buying a reliable model.
Is It Worth Getting A Samsung TV Repaired?
Whether it is worth getting a Samsung TV repaired will depend on the specific issue and the age of the TV. In some cases, it may be more cost-effective to replace the TV rather than repair it. It is important to consider all factors before deciding if it is worth repairing your Samsung TV.
How Many Years Of Warranty Does Samsung TV Have?
The warranty for a Samsung TV will depend on the specific model and where it was purchased. Some Samsung TVs come with a 1-year manufacturer's warranty, while others may have longer warranties. It's best to check the specific warranty information for the TV you are considering purchasing.
Which Company Owns Hisense?
Hisense is a Chinese company owned by the Hisense Group, a multinational conglomerate with a diverse range of businesses and products. The Hisense Group is headquartered in Qingdao, China, and has a presence in over 100 countries. This includes the United States, where Hisense is a well-known home electronics brand.
Which Company Owns Samsung?
Samsung is a South Korean multinational conglomerate that the Samsung Group owns. Founded in 1938, Samsung has many products and services ranging from home appliances to semiconductors. It is one of the largest companies in the world by revenue and market capitalization.
As of 2021, Samsung Electronics is the largest technology company in the world, with a market cap of nearly US$400 billion. Samsung Group, the parent company of Samsung Electronics, is owned by the Lee family and its affiliates.
The chairman of Samsung Group is Lee Kun-hee. His son, Jay Y. Lee, serves as the vice chairman and CEO of Samsung Electronics. The family also holds many company shares in Samsung Group and its affiliates.
How Many Companies Does Samsung Own?
Samsung is a diversified company that has a wide range of businesses and subsidiaries. It is difficult to say exactly how many companies Samsung owns, as the Samsung Group has a complex corporate structure with many subsidiaries and affiliates.
You can find a full list of Samsung's subsidiaries and affiliates on the company's website. According to reports, Samsung has over 80 subsidiaries and affiliates, including Samsung Electronics, Samsung C&T Corporation, and Samsung Life Insurance.
 Conclusion
It should not surprise that Samsung and Hisense TVs are both leaders in television technology. Both manufacturers offer a wide range of high-quality television models, and each has its advantages and disadvantages.
Hisense televisions may be a more affordable option for some buyers, but Samsung is the unquestionable leader in features and innovation. When making a purchase decision, buyers should consider their needs and budget before deciding which television is right for them.
Ultimately, both Hisense and Samsung TVs offer excellent features and performance, making them top contenders in the TV market.