The Twitch gaming platform has provided gamers an opportunity to develop engaging communities for their member fans via the Twitch chat application. If you use Twitch, you can use it to communicate with your users and check the chat logs to check a user's comments or complete chat history.
So read this article in its entirety, because in this article I will tell you the best and easiest way to check Twitch Chat logs. By following these steps, you can not only check the chat of any of your users but also save them to your computer by downloading Twitch Chat.
The website is designed to be user-friendly and easy to navigate, with a search bar that allows users to search by username, game, or date. The Twitch chat logs also feature two additional features: a block list and a channel list.
The blocklist allows users to add specific usernames or words that they want to avoid on the website. The channel list displays all of the channels with the most recent chat logs.
Since its creation in 2011, Twitch has become the most popular live streaming platform for gamers with over 7 million monthly broadcasters and 4 million active daily users. While the games being streamed are the main attraction, the Twitch chat room is often just as active, if not more so, than the stream itself.
Chat logs from Twitch chats can provide insights into what games and topics are popular among gamers, as well as give a sense of the overall tone of a chatroom.
Why You Should Check Your Twitch Chat Logs?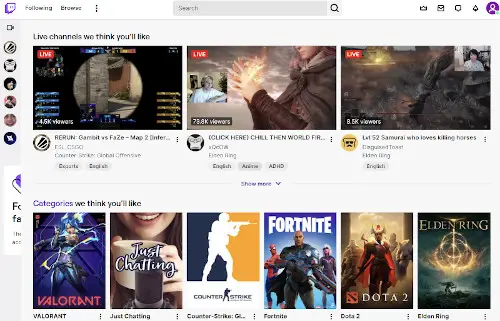 You've probably heard the saying "the best offense is a good defense." The same goes for your Twitch chat. By keeping an eye on your chat logs, you can catch any potential issues or problems early and take corrective action before they become bigger problems.
Twitch chat logs can help you track down users who are causing trouble in your chat, whether it's intentional or not. If someone is spamming or harassing other users, you can take action against them before they cause any long-term damage.
Logs also allow you to keep track of how your channel is performing. By looking at the chat data, you can see which topics are getting the most engagement from your viewers and which ones aren't resonating as well. This information can help you fine-tune your content strategy and keep your viewers engaged.
Why You Should Check Your Twitch Chat Logs:
Evaluate disciplinary actions
You might want to evaluate the appropriateness of punishment. This could be a situation in which a user was prohibited from a particular location when they were only given a timeout.
Twitch chat logs can offer you useful information about the user's intentions and violations before punishing them. This lets you actively manage your moderators and make certain that none of them are attempting to hold a grudge for personal reasons.
Check for inappropriate comments
Twitch has been ruthlessly cracking down on unruly behavior or comments in its chat channels and much of the responsibility for preventing abuse falls on moderators and administrators.
This is why it's so important for the chat moderators of Twitch streamers to review their chat logs on a regular basis for prohibited content. If people are constantly breaking your TOS (terms of service), you might not receive any attention as long as you are not aware of the controversial comments in your chat.
Leveraging your Twitch chat log can help you gain more insight into the kind of content your viewers enjoy. A quick look at your viewers' comments will provide information regarding the type of games or activities they liked, the parts of your stream they found boring, and your overall viewer opinion of your stream.
You don't need to be persuaded that your audience is judging the content you provide. Knowing what path your audience wants to take can help you find the path you want for your future travels.
Your small streams may earn comments and feedback from viewers on how they could enhance their channel. You may even get invited to collaborate with other streamers within your chat portal.
Through the Twitch chat log, you can go back and review feedback and most important comments whenever you want.
Twitch contains tools that are free and used very little to open an account. Thanks to this, the platform's growth has been a big help, but the tools can also be used to circumvent bans and timeouts. A banned user may have another account and continue abusing your Twitch Chat.
Your Twitch chat log will highlight the time when an account was created and what kind of posts they're making. To determine if a user is using a throwaway account to enter your channel, you can compare writing styles and usernames to each other.
How to Check Twitch Chat Logs?
On the internet, you can find out many methods that can explain how to check twitch chat logs, but in this article, I'll talk about some methods that can give you a proper and best way to check the Twitch chat logs properly. 
1. Use the User Search Command
Searching Twitch chat logs can be a great way to keep track of the conversation that is happening in the chat. The user search command can be used to search for specific users in the chat logs. This can be helpful for monitoring conversations or for finding specific information. 
In your Channel's chat box, type in '/user' followed by their username, and press Enter.
Twitch will now display all the comments that you make about a video in your broadcast's chat room.
You can also note the user data such as when they discovered that you were their fan when they created their Twitter account and their disciplinary history. However, the user search command does not display any moderator's comments that were removed.
2. Check Twitch Log as a Moderator
Twitch is a live streaming video platform for gamers that allows viewers to watch, chat, and follow other gamers. As a moderator, it is important to check the Twitch log to ensure that all messages are appropriate and meet the Twitch Community Guidelines.
The Twitch log includes all messages sent in a chat room, so it is a great way to keep track of any inappropriate behavior. 
Moderators can be set to check the chat logs of specific viewers as well. Here's what you'll need to do this: 
Open your Twitch account and go to your account panel.

Now here you need to click on the sword icon on the lower right corner and move to the mod view.
You can search for the usernames of all channel viewers by using the search feature or the viewer list.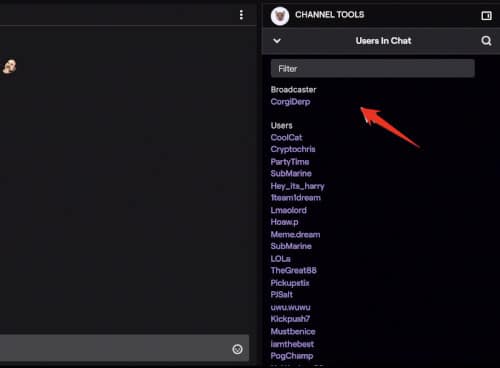 You can click on the message tab to see the user's current comments or to see a specific user's past comments.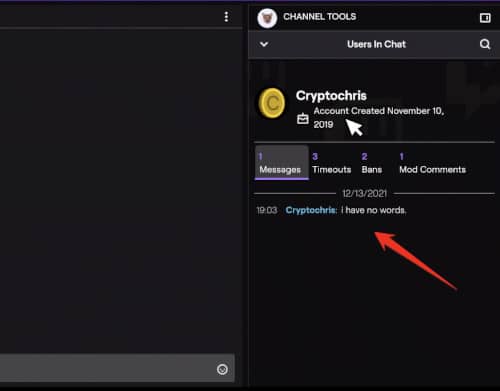 3. Check Twitch Chat Log via VOD
If you're a fan of Twitch streaming, you've probably seen the chat window in the corner of the video player. It can be a fun way to interact with other viewers, but sometimes the chat can get out of hand. If you want to keep track of what's been said in the chat, you can check the chat log for that stream. 
This can be done by watching the VOD (video-on-demand) of the stream. Once you've watched the stream, you can use the Twitch desktop app to access the chat. Here are the simple steps to check the Twitch chat log through the VODs.
First of all, log in to your Twitch account.
Now click on your channel icon to continue.
Here you need to go to your Creator Dashboard.
Expand your Channel Settings.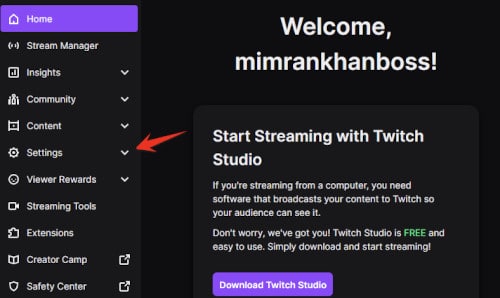 Click on the Stream option.
On the right panel, under VOD Settings, toggle the Store past broadcasts options.

Twitch will now store your particular live broadcast for 14 days. In addition, you can download the archives later as well. If you're a Twitch Partner, Prime, or Turbo member, the site will store your hosted videos for 60 days.
4. Check Twitch Chat Logs Through Third-Party Software
In a world where anything and everything can be streamed live, Twitch has become the go-to destination for gamers of all types. Whether you're a first-time player just trying to learn the ropes or a seasoned pro looking to show off your skills, Twitch chat provides a lively and engaging community to share your gaming experiences with.
But what if you're not interested in watching the game itself? Maybe you just want to see the chat logs for a particular stream. Or you want to see who's chatting about the game and why. Or maybe you just want to read through a previous streamer's chat logs in order to better understand their personality.
The easiest way to view your chat in the aftermath of the live broadcast is to use a third-party program called Chatty. Chatty is a free, open-sourced program that gives many chat options to live streamers. One of the advantages is that it enables you to download the database to a personal computer for future reference.
This widget displays the mixer program of a credit report, a tag tree which shows your most recent friends and family members, a viewer graph to show you the match between your current and previous application sessions, and a number of tear-away cards to give somebody your user-defined consents so that they can receive and send messages to you.
Frequently Asked Questions
Does Twitch Keep Chat Logs?
The straight answer is no. However, you can retrieve your chat history by following the methods described above. One thing similar in Twitch is the way the VOD feature affords a way to store your chat log. Aside from this, Twitch doesn't save your chats.
Can I View Chat Logs For Other Channels?
Yes, you can view chat logs for other channels. To do this, open the chat window for the channel you want to view and click on the "Chat Logs" tab. This will show you a list of all the chat logs for that channel.
Does Twitch Keep Chat Logs Archives?
Yes, Twitch does keep chat logs archives. However, they are not easily accessible to the public. If you need access to chat logs archives, you will need to contact Twitch support and request them.
How Do I Check My Chat Rules on Twitch?
To check your chat rules on Twitch, follow these steps:
Go to the Twitch website and sign in.
Once you are signed in, click on the down arrow next to your name in the top right corner and select "Settings."
On the Settings page, select "Channel & Video" on the left-hand side.
Scroll down to find "Chat Rules." Here, you can see all of the chat rules that are currently enabled for your channel.
If you want to make any changes, simply click on "Edit" next to the rule you want to change.
Can I See When a Twitch Account Was Made?
Yes. Twitch has a feature that allows you to see when an account was created. To view this information, follow these steps:
Go to the Account's profile.
Click on the "view more" link below the "created on" header.
This will show you the exact date and time that the account was created.
Final Thoughts
I hope you enjoy reading this article and finding out the best way to check Twitch chat logs easily. Twitch chat logs can be a great way to keep track of what is happening in your chat room. By using a service like TwitchAlerts, you can easily keep track of what is being said in your chat room.
Additionally, you can also use a tool like Twitch Chat Logger to keep a record of everything that has been said in your chat room. This can be helpful if you need to reference something that was said in the past.