When choosing a gaming laptop, two of the most popular brands are Asus ROG and Asus TUF. Both offer a range of laptops with different specs and features, so it can be hard to decide which one is right for you.
One of the main differences between the two brands is built quality. TUF laptops almost always have a full plastic build, whereas ROG laptops can have aluminum lids in many models. However, both brands are equally durable regardless of the materials used in their casing.
Not sure whether to pick an Asus TUF or ROG laptop? Use this guide to compare the two models and determine which is right for you.
Asus TUF Overview
Asus TUF has some compelling gaming laptops. Although they are standard-looking, they are the best laptops that offer the best gaming experience. The laptop is powered by NVidia GeForce RTX 3050Ti GPU and the Intel 12th Core i7-12700H CPU, which can impress gamers. The price is reasonable, and so is the performance. It is an affordable gaming laptop.
Asus focuses on build quality and durability, but it is not a rugged laptop that you can throw from a great height. You may easily transport it in a bag to a friend's house.
The laptop's ultra-minimalistic design makes it look delicate, and you might be afraid to carry it outside the home, but you shouldn't be. Asus has used a combination of sturdy plastic and brushed aluminum to construct the body, which feels rigid.
Although it is a gaming laptop, the design is not entirely overboard. It has a sheet of stickers that can cover and customize the laptop to meet your aesthetic needs. Its color is Fortress Gray and Bonfire Black, making it easy to customize to meet your needs.
The internal design appeals to gamers as it has obligatory RGB lighting for keys and uses translucent coloring and WASD keys. Moreover, the industrial design is functional and protects the laptop from knocks and bumps. The honeycomb design keeps the laptop safe and keeps the device from sliding when gaming.
Its design allows the laptop to pack a lot of ports, such as the Ethernet port, HDMI, USB ports, and a USB-C port on the left side. The laptop has a port to plug into a power source and hook up to your favorite peripherals without needing an adapter.
The LAN port makes it possible to compete with other players by offering fast and reliable internet speeds. Its nice large screen, about 17.3 inches, with a 1080p display and 144Hz refresh rate, bolsters gaming credentials. You may update the laptop to the 60 Hz refresh rate.
It is a high-performing laptop with the latest AMD and NVidia.
With these games, you can efficiently utilize the 144 Hz screen for responsive and fast gaming. Although it is not stuffed with powerful tech, it still offers excellent, affordable performance compared to high-end gaming laptops. This might be a win for the Asus TUF laptop, and its battery life is reasonable.
Asus ROG Overview
ASUS ROG has everything you need and nothing you don't want for all of your productivity from a performance and loading standpoint. It can manage many software, tabs, and windows while multitasking.
The ASUS ROG is loaded with enough power for your gaming needs. It has 16GB RAM, 1TB SSD, Intel Core i9 12900H, and NVIDIA GeForce RTX 3070 Ti. With 6 P-cores and 8 E-cores, you'll get maximum performance.
Thermal Grizzly's Conductonaut Extreme works better than standard thermal paste because it has 17x higher thermal conductivity. This means that your CPU will be up to 15 degrees Celsius cooler.
When it comes to performance, this laptop won't let you down – and the fan noise is surprisingly low. Although running at a high load will still be loud, with optimization for quieter operation, you get more than adequate performance without any excessive sound.
Asus TUF vs. ROG Comparison Table
| Comparison | Asus TUF | Asus ROG |
| --- | --- | --- |
| Weight | 5.73 lbs | 5.29 lbs |
| Screen Size | 17.3 inches | 17.3 inches |
| Storage | 512 GB SSD | 2 TB SSD |
| Graphics | NVIDIA GeForce RTX 3050 | NVIDIA GeForce RTX 3050 |
| Connectivity | Wi-Fi 6, Bluetooth 5 | Wi-Fi 6, Bluetooth |
| Camera | 720p HD | None |
| Battery | 7 hours | 7 hours |
What is the Difference Between Asus TUF and ROG?
Design
The Asus TUF series computers offer vast and hefty machines, which might be a long cry from the ROG series. However, gamers like bulky computers, and it is built for quality and longevity.
TUF has 144 Hz refresh rates and the best display, enhancing gaming prowess. On the other hand, unlike other gaming devices, you can take the laptop out of the home. It does not have a power brick for the charger and might not be the most portable gaming device.
Display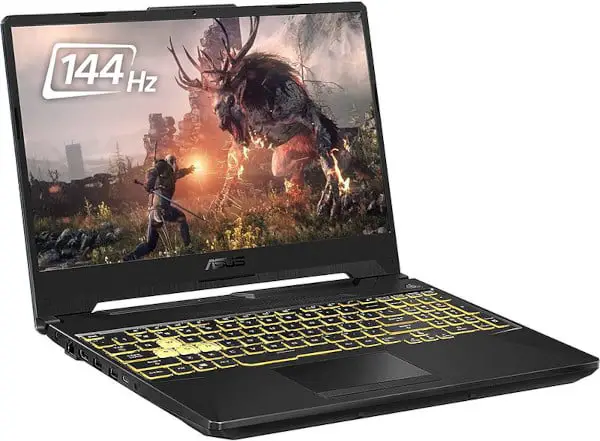 Asus TUF has a 15.6-inch matte Full HD IPS screen with a 144 Hz refresh rate and 141 PPI pixel density. The IPS panel is available in the 60 Hz variant, and the brightness is about 254 cd/m2 on the panel.
You will enjoy gaming with this laptop as its display lighting is adequate and does not have discernible halos. Its contrast ratio is about 1867:1 and is mounted on a 0.15 meager black value. You might not find any other gadget with such qualities.
On the other hand, the ROG offers the best balance between power consumption and sharpness as it uses a 165Hz frequency. The high frequency and short reaction time are ideal for gamers as it produces under 10ms gray-to-gray contrast.
Moreover, the excellent color gamut is another advantage over the cheaper Asus TUF series.
Processor
The Asus TUF meets multithreaded tasks with the single AMD Core, which is at par with the Intel Core. It uses powerful chips to boost the essential clock speed necessary for gaming.
On the other hand, ROG uses the Cezanne generation, which puts the AMD principal opponent under strain as it falls back on technology.
Quality
Asus delivers a satisfactory gaming experience as it has about eight cores. It may seem like a lot, as the memory available on most laptops may fall short of the current expectations.
Playing modern games on the hardware might seem impossible, but the RAM will readily increase without issues. However, the ROG is a small but powerful laptop that can handle all everyday activities without any problem.
Gaming Performance
The Asus TUF has high frame rates, and you can play it on the native resolution even when playing the most demanding games in the market. The resolution and quality settings might meet your expectations.
The Asus ROG is an excellent performer also, and you may need to stick with the native resolution to find the best experience.
Speaker
You may use subwoofers to fill the low frequencies in the Asus TUF stereo speakers. The laptop might not offer the optimum sound you need for gaming. The mids and treble might dominate the sound, which might be fine for a gaming laptop but not ideal for listening to music.
You may use headphones to improve the audio quality and plug it into a computer through the USB port. Contrarily, the ROG has a robust and balanced sound system, and you may not need a subwoofer to enjoy using the laptop. The laptop has additional speakers, which boost the sound.
Keyboard
The Asus TUF keyboard is bulky but is the same as the rest of the chassis. The RGB description on the WASD keys is only visible. The short travel lengths and defined activation points are pushed down linearly and might not be forced down.
Although the keyboard might be bulky, it is effective for gaming, especially if the players enjoy the clicking sound from their keyboards when playing.
On the other hand, the Asus ROG keyboard offers a narrow keystroke, and the layout may not be to everyone's taste. They have one entering line, which might not be ideal for gamers. For instance, the Print Screen and Insert keys might miss omissions throughout the testing.
Touchpad
Asus TUF has a large touchpad which increases a gamer's experience. Unfortunately, the corners might touch erratically. However, it is easy to manipulate the cursor without a problem making it possible to make the right moves during gaming.
On the other hand, the Asus ROG series enables you to run for an extended time without resetting your finger. It is highly ergonomic, which enhances the palm rest. Although the touchpad is large, you can control it with your palm without erratically touching the corners.
Moreover, the touchpad's surface is smooth and easy to glide over, making it ideal for people who play games for an extended time.
Battery Life
The Asus TUF has a long-lasting battery lasting over six hours before recharging. If you reduce the brightness display, you will increase the battery life. The Asus TUF battery life allows playing games for an extended time.
On the other hand, the Asus ROG has a 12-hour battery time with impressive brightness, allowing users to engage in gaming activities even when they don't have a reliable internet connection.
Asus TUF vs ROG: Which is Better?
Choosing the better laptop between Asus TUF and ROG might be challenging as both have advantages and limitations. However, the Asus TUF would be perfect if you don't mind purchasing a bulky laptop.
You may choose Asus TUF if you enjoy high-definition displays, as they produce crystal-clear visuals, and the displays are excellent for anyone who wants to game and watch videos. It also has a longer lifespan and a competitive warranty.
The design is trendy. It increases versatility for people who want to move around with their device and has intuitive LCDs.
However, the ROG is a good choice for professional gaming as it offers a high-end gaming experience. The laptops have a brighter display and a large screen, which increases the gaming experience; thus, you would use them when looking for higher speeds.
Unfortunately, you would pay more for the Asus ROG laptops, but they are worth the price and offer a high-end gaming experience.
Frequently Asked Questions
Is ASUS TUF Gaming Worth It?
Yes, the Asus TUF gaming laptop is worth it. It is cheaper than other laptops and offers the best gaming experience.
They are trendy and excellent, and a player would take the laptop to the LAN gaming competition. The lower costs ensure the Asus laptops are more accessible to gamers and have high processing speeds, ideal for gaming.
Does ASUS TUF Have Good Build Quality?
Asus has a good build quality and is easily portable; not all gaming laptops are portable. You can carry this laptop from your house to a friend's house. Although it has a bulky design, it has high processing speeds, and its keyboard is easy to operate.
The laptop is highly effective for gaming and is cheap compared to similar laptops.
What is the Battery Life of ASUS TUF?
The Asus TUF battery can last about 6 hours with continual gaming, but your battery might last longer if you reduce the screen brightness.
Does ASUS TUF F15 Have Heating Issues?
Although the Asus TUF system has high processing power, it does not heat. However, the laptop might get clogged after overuse, and you would clean your fans regularly to prevent overheating. It would be best if you opened the laptop frequently to avoid overheating.
Does ASUS ROG Overheat?
The Asus ROG might not overheat, but it might overheat if it has clogged fans. Thus, it is better to ensure the fans are not clogged to avoid overheating. Clogging leads to high heat retention as the fan does not cool the device, leading to overheating.
Are Cooling Pads Worth It?
The cooling pads are worth it, as they prevent the laptop from overheating it prevents system failure due to excess heat. Moreover, it prevents you from suffering from heat-related issues from the overuse of gaming laptops.
You can avoid laptop system failures and skin burns from overheating. However, you should not over-rely on the cooling parts as it does not address the overheating problems leading to damage to the internal laptop components.
Conclusion
The Asus TUF and ROG are excellent laptops for gamers. The Asus TUF offers a high-end laptop experience at an affordable price point with 14 cores, 16 GB of RAM, and 1 TB of SSD storage.
On the other hand, if you opt for the Asus ROG, it boasts impressive performance. It comes pre-installed with RGB adjustment settings and other performance-tuning features so you can get right into the action.
Both laptops offer great value for their cost, making them perfect options for gamers who want to get more out of their gaming experience without breaking the bank.