Articles tagged with: php
Web &raquo
If you have been using WordPress, you know how easy it is to install a plugin. Just find a plugin and then install it by clicking "Install Now." If there is a new version for your existing plugin, your WordPress admin panel informs you about the new version.
For some reason, when I upgraded my TinyMCE plugin, it would get stuck at "Unpacking the package" message and then hangs there. It didn't give me an error message or continue with the upgrade. It was stuck. Now what?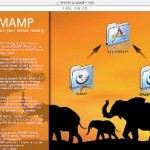 Do you want to start your online business? Are you an entrepreneur and want to do it yourself instead of making someone else to do it? Do you have a Mac? If you answer yes to all these questions, then you need to start from the basics. If you have a Mac, you should start by installing MAMP. Once you"re comfortable with the setup, you can upload your site to your ISP and make it live.